Transient Transfection Vector Construction
Creative Bioarray has rich experience in the construction of expression vectors for transient transfection. Our vector construction platform can help researchers in protein expression verification and gene function research to design and construct suitable plasmid vectors and/or viral vectors. We have established a mature agreement and can provide an ideal expression vector with a fast turnaround time according to your requirements.
Vectors for Transient Transfection
The construction of a gene expression vector is the second and more critical step of genetic engineering. Appropriate expression vectors can be used for protein expression and gene function research. Transient transfection has unique advantages over stable transfection organisms, so it is important to choose an appropriate expression vector. Compared with stable transfection, transient expression vectors suitable for protein expression do not need to consider subsequent screening. Gene products must not be toxic to cells, and transient transfection is difficult. It is very important to select a promoter that can be adjusted and the strength is appropriate when constructing the vector. At the same time, an empty vector or other genes of the same vector can also be used as a control to exclude the effect of toxicity on cells. His commonly used gene expression vectors include plasmid vectors and viral vectors. Expression vectors are highly effective in infecting specific host cells, but different viral vectors have their own specific hosts, and some also require specific cell cycles. For example, retroviruses need to infect host cells during the division phase. Our platform is good at using plasmid vectors for transient protein expression experiments, and we also have project experience in using viral vectors to study gene functions.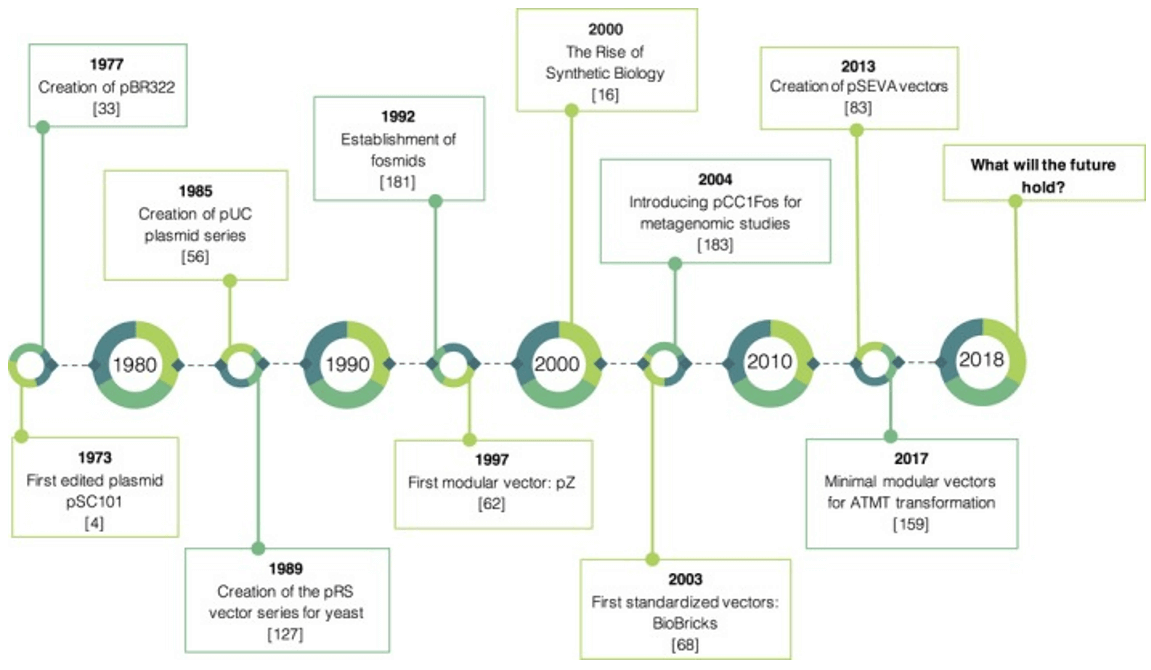 Fig 1. Timeline showing the most decisive breakthroughs regarding vector technology and design from 1970 until the present. (Nora L C, et al. 2019)
Transient Transfection Vector Construction Services
Our transient transfection vector construction technical services include transient transfection vector construction and expression vector quality identification.The transfection vector construction service we provide can be used to introduce siRNA, microRNA, shRNA and plasmid DNA into vectors of selected cell lines. Customers only need to provide exogenous gene DNA sequences or siRNA fragments, or through our expert team to assist in sequence design. We use commercial or self-modified empty plasmids and viral vectors to construct expression vectors suitable for transient transfection. Standard services include transfection of optimized DNA or RNA (at least 20 µg) into selected cell lines and final verification of construct expression by real-time qRT-PCR (mRNA expression) and/or Western blot (protein expression). Our transfection vector construction service has mature agreements, and customers can communicate with our technical experts. Finally, a report on vector construction, vector construction, vector-containing bacterial liquid, and vector quality evaluation reports are provided. We also provide follow-up transfection and cell culture services. In addition, customers can consult, inquire, and solve problems encountered in transient transfection through telephone or email.
Construction of plasmid vectors for protein expression
The vector construction for protein expression is mainly to construct plasmid vectors and baculovirus vectors. Plasmid vectors are classic expression vectors and have mature protocols for scientific research. The Baculovirus Expression Vector System (BEVS) based on insect cells has proven to be a particularly suitable system for the production of multiple protein collections.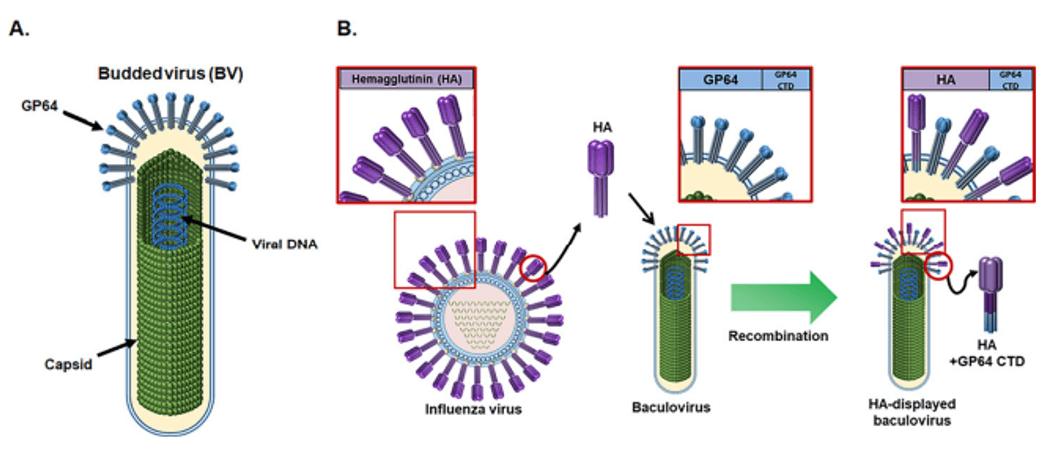 Fig 2. Baculovirus and display of foreign protein on the baculoviral surface envelope. (Tsai C H, et al. 2019)
Construction of viral vectors for gene function research
The construction of expression vectors for gene function research mainly uses lentiviral vectors to construct interfering RNA, which is used to knock down or inhibit gene expression to study the corresponding functions. Our lentiviral vector construction service has mature agreements, short and fast turnaround times, and you can obtain high-quality vectors in a short time.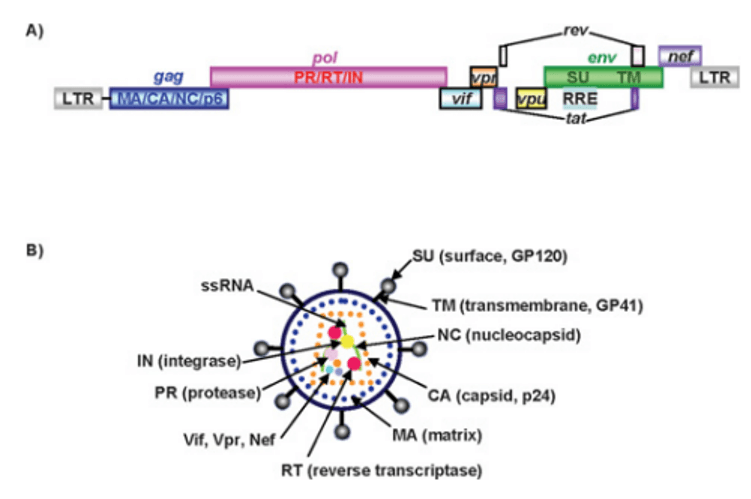 Fig 3. Schematic representation of the HIV-1 viral genome and structure of HIV-1 virion. (Sakuma T, et al. 2012)
Creative Bioarray provides technical services from fast and stable vector construction to help our customers successfully complete the preparations for transient transfection. Our scientific team can work with you to find the best solution to meet your needs.
If you are interested in our services or have any specific needs, please feel free to contact us. We look forward to working with you in the near future.
References:
Tolmachov O. Designing plasmid vectors[J]. Gene therapy of cancer, 2009: 117-129.
Nora L C, Westmann C A, Martins‐Santana L, et al. The art of vector engineering: towards the construction of next‐generation genetic tools[J]. Microbial biotechnology, 2019, 12(1): 125-147.
Tsai C H, Wei S C, Lo H R, et al. Baculovirus as versatile vectors for protein display and biotechnological applications[J]. Current issues in molecular biology, 2019, 34(1): 231-256.
Sakuma T, Barry M A, Ikeda Y. Lentiviral vectors: basic to translational[J]. Biochemical Journal, 2012, 443(3): 603-618.
For research use only. Not for any other purpose.