Chemokines
Chemokines are a class of secreted proteins that promote cell movement and targeted chemotaxis. They play an important biological role in the organism and are involved in physiological and pathological processes such as immunity, inflammation, angiogenesis, and organ development. Common types of chemokines include chemotactic agents, chemotactic inhibitors, and chemotactic receptors, whose interactions and regulation are essential for normal physiological function and pathogenesis.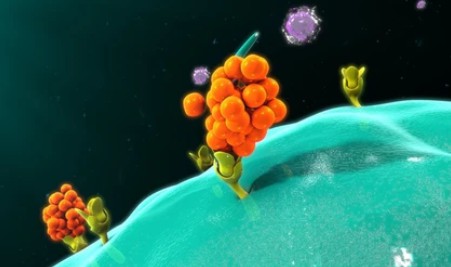 Creative Bioarray has developed a line of GMP grade and research grade chemokines. These products are available in a variety of classes and labels and are highly pure, structurally homogeneous, and active. Our recombinant chemokine family proteins can accelerate your scientific research and drug development programs.
Our chemokines can be used for the following studies
Cell migration and invasion studies: Chemokines can direct cells to migrate and invade in specific directions, and can therefore be used to study the role of chemokines during cell migration and invasion.
Tumor biology studies: Tumor cells can secrete and be influenced by chemokines, thus participating in the process of tumorigenesis and progression. Therefore, our chemokines can be used in tumor biology studies.
Immunological studies: Chemokines can direct immune cells towards sites such as infections or wounds, thus assisting the body in defending against pathogens. Thus, our chemokines can be used to understand the function of immune cells.
Drug screening studies: Chemokines and their receptors have emerged as potential drug targets. Our chemokine products can be used in drug screening studies to find compounds with therapeutic potential.
Why Choose Our Chemokines?
High purity and stability: Our chemokine products are typically prepared using recombinant or extraction techniques, providing high purity and stability for easy storage and transportation.
High effectiveness: Our chemokines are highly effective due to their ability to rapidly attract and activate specific types of immune cells.
High biological activity: Our chemokines are highly biologically active, stimulating immune cells to enter tissues and seek out pathogens.
Wide range of applications: Our chemokine products can be used in areas such as biopharmaceutical and biomedical research.
High safety: Our chemokine products are usually strictly tested and confirmed for their safety.
For research use only. Not for any other purpose.