Gene Knockdown Cell Line Construction Service
Creative Bioarray can successfully construct knockdown stable cell lines in a short period of time. This service has established a mature agreement through gene silencing technology, and can provide stable and fast turnover genetically modified cell lines according to your requirements.
Gene Knockdown
RNA interference (RNAi) has been used as a tool to study the control of specific gene expression in many experimental organisms or cells. RNAi can be performed by synthesizing small interfering RNA (siRNA) or vector-based short hairpin RNA (shRNA). shRNA is a stem-loop RNA structure that can be used to silence gene expression through RNA interference after being processed by DICER. RNAi has high potential in the clinical treatment of a variety of human diseases. RNAi has high potential in the clinical treatment of a variety of human diseases. The shRNA expression vector that targets gene silencing can deliver shRNA that can be used to down-regulate specific genes into cells. For example, lentiviral vectors can integrate target sequences into division and In the genome of non-dividing cells. Recently, the gradual development of combinatorial RNAi (co-RNAi) can improve gene knockdown by applying multiple shRNA delivery strategies, allowing multiple transcripts to be targeted at the same time. Our gene knockdown stable cell line construction service is to use vector-based RNAi technology to stably integrate the target shRNA into the genome of the target cell to form a cell line that can stably knock down GOI for a long time.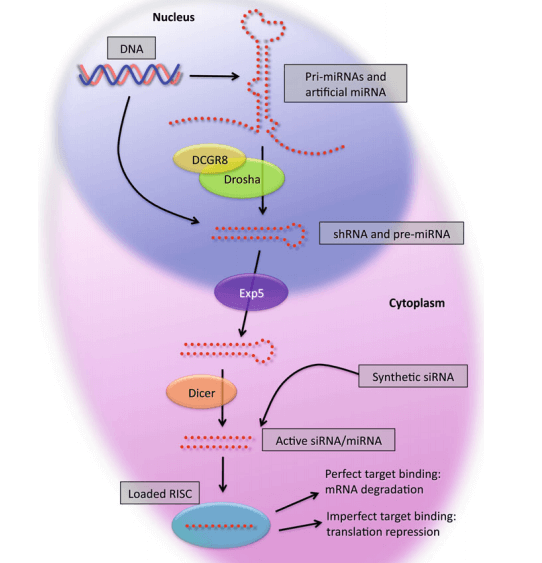 Fig 1. Cellular processing of shRNAs and miRNAs. (Lambeth L S, et al. 2013)
Knockdown Cell Lines Constructed With RNAi
This service can generate shRNA knockdown stable cell lines for applications that require long-term GOI knockdown based on RNAi technology. In order to ensure the efficiency of GOI knockdown, we integrate the target shRNA target into the highly expressed active site of the genome that has been screened and verified, and use a variety of shRNA-designed lentiviruses for target cell transduction. The shRNA expression system we designed can not only target safer (no coding genes) integration into the genome, but also target higher gene expression (active expression loci or use strong promoters). Through a unique design, high-activity transcriptional expression of shRNA can be achieved, and the target gene can be stably inherited and interfered with for a long time to achieve the purpose of silencing the target gene. In the end, we will provide cell lines with the best knockdown efficiency that have undergone multiple validations such as RT-qPCR, sterility testing, mycoplasma testing, and standard QC testing.

Fig 2. Gene knockdown stable cell construction service process.
shRNA Design Services
The shRNA cloning design service includes lentivirus and non-viral vector-based shRNA constructs for the whole genome of human, mouse and rat genes. A unique method is used to design shRNAs of different lengths (19-29nt) to produce shRNA expression constructs with high knockdown efficiency and minimal off-target effects. Our RNAi service design platform allows high-level expression of shRNA, which will help our customers complete shRNA design and synthesis, vector construction, transfection, mRNA expression and protein expression verification services. Our shRNA is driven by pol III promoters (such as the widely used U6, H1, 7SK) or pol II promoters (CMV, etc.) for endogenous miRNA expression, both of which have high knockdown efficiency. Finally, we will also provide a complete sequencing report of all shRNA cloned expression cassettes, including promoters, sense and antisense target sequences, hairpins, terminator and other adaptor sequences.

Fig 3. Flow chart of shRNA design related services.
Creative Bioarray has been committed to providing the best quality stable cell line construction services for many years. High-quality stable cell lines are widely used in signal transduction, drug target research, and immunotherapy drug development. We have accumulated rich experience in the construction of stable cell lines, and have successfully constructed RNAi stable cell lines in multiple species of cells. Our complete cell biology technology platform and standard advanced cell laboratory have a complete cell bank resource covering a variety of tumor cells and primary cells. Cell technicians accurately control every link in the service, making the terminal cell line products more reliable.
If you are interested in our stable cell line construction services, please feel free to contact us. We look forward to working with you in the near future.
References
Lambeth L S, Smith C A. Short hairpin RNA-mediated gene silencing[J]. siRNA Design, 2013: 205-232.
Song H, Yang P C. Construction of shRNA lentiviral vector[J]. North American journal of medical sciences, 2010, 2(12): 598.
Pushparaj P N, Aarthi J J, Manikandan J, et al. siRNA, miRNA, and shRNA: in vivo applications[J]. Journal of dental research, 2008, 87(11): 992-1003.
For research use only. Not for any other purpose.