Cell Transfection Services
Creative Bioarray provides a series of technical services for cell transfection and transfection efficiency identification. We have established mature experimental protocols for stable transfection and transient transfection, and established in-house optimized transfection reagents, and can provide cell transfection technical services with fast turnaround time according to your requirements.
Cell Transfection
Cell transfection is a powerful tool for studying and controlling gene expression. In a broad sense, transfection refers to the process of introducing purified deoxyribonucleic acid (DNA) or ribonucleic acid (RNA) into cultured eukaryotic cells through viral or non-viral methods to achieve the introduction of foreign sequences. In the construction of transgenic cell lines and the realization of exogenous sequence expression, this is a key step affecting success or failure. The cloned genes can be transfected into cells for biochemical characterization, mutation analysis, research on the effect of gene expression on cell growth, research on gene regulatory elements, and production of specific proteins. Transfection of RNA can be used to induce protein expression or suppress it using antisense or RNA interference (RNAi) procedures. Through the transfection process, genes can be specifically targeted for overexpression or silencing according to their sequence. This technical method can help researchers study gene function, analyze disease pathways, or identify potential drug targets. Transfection has become an important experimental tool in research fields such as cytogenetics, molecular and cell biology.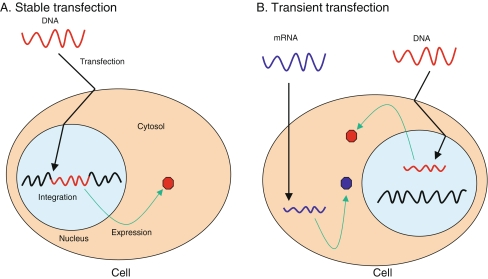 Fig 1. Schematic diagrams of two different transfections. (Kim T K, et al. 2010)
Available Transfection Services
Our cell transfection service can be used to introduce siRNA, microRNA, shRNA, and plasmid DNA into selected cell lines and can achieve transient transfection and stable transfection, which is determined according to the needs of customers. Our transient transfection service can target short-term transient expression of genes and small-scale protein production for research and development purposes. Stable transfection can achieve stable expression of the corresponding sequence and be used for efficient long-term antibody/protein production. Our standard service process includes customers submitting the constructed expression vector, or entrusting us to construct the expression vector, optimizing the DNA or RNA transfection scheme, and identifying the expression effect. According to the needs of customers, in vitro and in vivo transfection services can be provided, and personalized transfection schemes can be customized based on different needs. At the same time, our cell transfection service can also provide transfection-related technical guidance services, including experimental design, cell line selection, selection of transfection reagents, expression vector construction, vector selection, etc.


Fig 2. Key points of cell transfection service.
Our Features
We provide optional transient transfection and stable transfection service options;
In order to ensure transfection efficiency, each sample customer should provide at least 20 µg;
For identification after transfection, we provide two levels of evidence for product identification and gene identification (real-time qRT-PCR (mRNA expression) and/or Western blot (protein expression) for final verification of construct expression);
Transfection report, we provide transfection report according to customer's needs;
Creative Bioarray provides a variety of available transfection services for the construction of stable cell lines and transiently transfected cell lines and provides services for the identification of transfection efficiency. This service can help our customers improve efficiency. At the same time, we will provide a series of technical support services, you will benefit from our technical expertise and the most advanced facilities. If you have specific requirements for cell transfection, please feel free to contact us. We look forward to cooperating with you in the near future.
Reference:
Kim T K, Eberwine J H. Mammalian cell transfection: the present and the future[J]. Analytical and bioanalytical chemistry, 2010, 397(8): 3173-3178.
For research use only. Not for any other purpose.